AQUINAS TRACK AND FIELD PROGRAM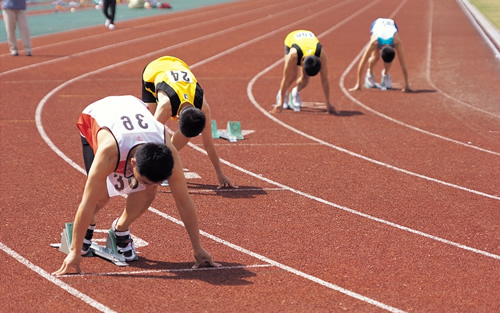 The Aquinas Lil'Irish Track and Field Program offers Boys and Girls Varsity, JV, and Modified teams. The coaching staff is experienced in all track and field events, providing students with the ability to compete at the local, state, and national level.
Aquinas Track and Field Coaching Staff:
Anthony Cook (Head Coach Indoor and Outdoor Track and Field/Sprints and Relays)
Ryan Brennan (Asst. Coach Indoor and Outdoor/ Hurdles and Sprints)
Leroy Dixon (Asst. Coach Indoor and Outdoor/ Horizontal Jumps and Sprints)
Terry Richards (Volunteer Asst. Coach Indoor and Outdoor/Sprints)
Aubrey Sheffield (Asst. Varsity Coach Outdoor)

For questions please contact Head Coach Anthony Cook by email at acook@aquinasinstitute.com.
Calender
The Section V Indoor Winter Track League starts meets in the second week of December each calendar year. The Aquinas Track Program begins practice for the Indoor/Winter season on the second Monday of November. The Section V Championships are typically held on the second weekend of February annually. Aquinas advances athletes to the State and National Championships held in Cornell and New York City every year.
The Section V Outdoor Spring Track season begins in April and practices usually begin in the last week of March. The Section V Championships are the last weekend in May or the first weekend in June. Aquinas Athletes advance to the Meet of Champions and New York State Championships yearly.
Meet the Coach
Coach Anthony Cook has coached as part of the Aquinas Track & Field Program since the Spring in 2005. As the Head Boys and Girls Outdoor Track and Field Coach he led the team to a Sectional Championship and State Qualifier appearance for the Boys 4x400m Relay team.
In following years Coach Cook joined the Indoor Track coaching staff and became the Head Coach in 2008. In that first season, the Aquinas Girls team captured the school's second Girls Indoor Track and Field Sectional Championship. Since 2009, the Lil'Irish have finished in the top three for each Sectional Competition for both the Boys and Girls. This consistency has generated respect for the Aquinas Program that resonates throughout Section V and New York State.
The entire Aquinas Coaching Staff shares the goal to make each athlete better on a daily basis through practice – mainly focusing on correct form and technique. Utilizing drill instruction, the athletes and coaches strive for improvement.
Accomplishments
Since 2005, the Aquinas Track and Field Program has accomplished the following accolades:
2 Nike Indoor All-Americans
B.J. Murray (2009 - 200m)
Brianna Cromartie (2008 - 400m)
3 All-Greater Rochester Athletes of the Year
Camaria Long (2010)
B.J. Murray (2009)
Brianna Cromartie (2008)
8 All-Greater Rochester Team Members
Matt Denk - Sprints - Indoor Track (2011)
Thomas Green - Hurdles/Sprints - Indoor Track (2011)
Camaria Long - Sprints – Outdoor Track (2010), Indoor Track (2011)
Kate Perry – Throws – Outdoor Track (2010)
B.J. Murray – Sprints – Indoor and Outdoor Track (2008-2009)
Brianna Cromartie - Sprints – Indoor and Outdoor Track (2008-2009)
Olivia Guy – Jumps – Indoor Track (2009)
Noel Bateman – Distance (2005-2006)
21 NYS Scholar Athlete Teams
42 Individual Sectional Champions and 12 Relay Sectional Champions
Sectional Champion Events – 55m, 100m, 200m, 300m, 400m, 600m, 1600m, 3200m, 3000m Steeplechase, Long Jump, Triple Jump, High Jump, Pole Vault, Shot Put, Discus, Pentathlon, 4x100m Relay, 4x200m Relay, 4x400m Relay
Camps
Every August, the Aquinas Staff operates a Speed Camp that is attended by 30 student-athletes annually. Athletes are given direct instruction to improve running form and explosion. The camp is open to all Aquinas and non-Aquinas athletes and strives to address skills to advance performance in all sports. The camp typically costs $70.
Required Equipment
Aquinas Track Athletes are required to have appropriate attire and footwear for practice daily. All athletes should were warm clothing, even when inside. A pair of athletic running shoes/trainers are ideal for practice and those athletes serious about track should consider purchasing racing flats. Jim Dalberth Sporting Goods, located at 925 Genesee Street, Rochester, NY 14611 is an excellent retailer to consult about the correct running apparel/footwear.